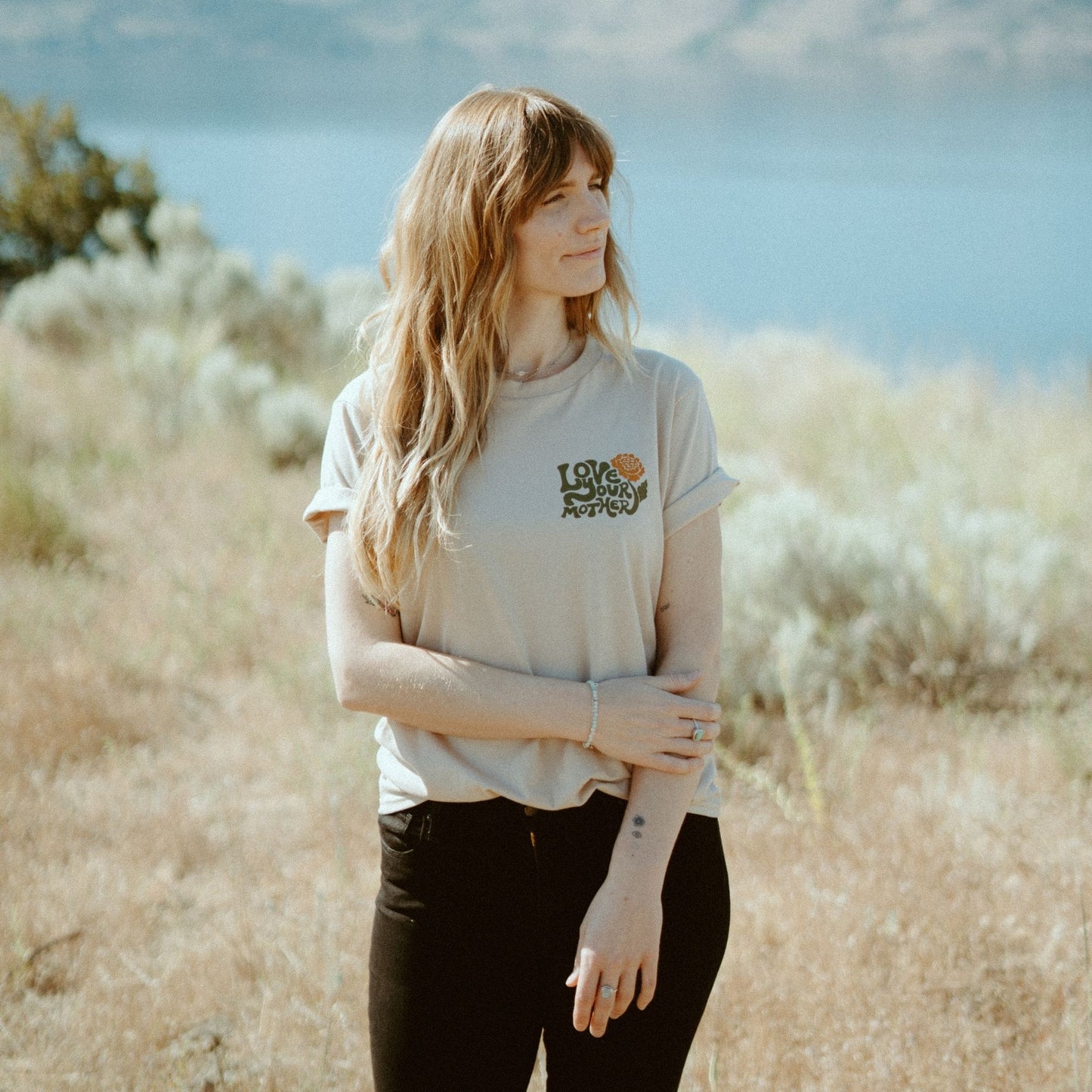 "Meet the Artist" is a new blog series in which we dive deeper into the inspiration and personalities of the amazing artist we collaborate with here at Be Kind Vibes. In Volume 1, we chatted with Catie St. Jacques who created our new Love Your Mother design for Earth Day which quickly became our best seller and community favorite.
We first came across Catie's inspiring work on Instagram and instantly knew a collaboration was in our future. We can, and might have, scrolled her feed for hours taking in her uplifting retro designs. We could print all of them on Be Kind Vibes tees :) Until then, read through the chat we shared with Catie about how she got into the art world, what and who inspires her, and how she turned her passion into her life's work.
- Can you tell us a little bit about your journey to art and graphic design? What drew you to this medium? How did you start down this path?

I've loved drawing since I was a kid. I'm an anxious person, and I remember being so shy and sensitive. I didn't understand it at the time, but drawing was a way for me to unwind and relax. As I got older, I continued to draw, but with no direction, and saw it as more of a hobby. I then went on to study art for a semester in college, but found that it wasn't for me - looking back, I think I was just fearful of failing at something I loved. So, I shifted my focus and pursued a BA in Film Studies.

Since then, I've had a lot of different jobs, from working in an actors' studio to being a newspaper reporter to marketing and public relations. While I enjoyed learning new skills and the friendships I made, I never felt fulfilled in the work that I did. So, in my spare time, I would always come back to drawing.

I started sharing my designs on Instagram, and it didn't really take off for the first few years. But, one day when I was at work, I kept getting all these Instagram notifications, I had gained something like 100 followers in an hour, which was unheard of for me because I had around 300 followers at the time. The Ram Dass account had shared one of my designs on their feed and that's when it all started falling into place. It's so beautiful, because Ram Dass has helped me in so many ways, and it's just so fitting that he helped me to start my career as an artist.
- We noticed you recently went full-time with your art, so rad! How did you make that decision? Were you nervous to make the leap to full-time? Any advice for young artists or entrepreneurs looking to quit the 9-5 and focus on their passions?

I did! And yes, I was super nervous to take the leap. But, being faced with a pandemic and realizing that all this comes to an end at some point, I decided that life's too short to waste doing things I am not passionate about. For about 10 years, I've wanted to work for myself, but I didn't know how or what I wanted to do. I'm still learning and growing and who knows what will happen with Sun Keep, but I'm excited to see where it takes me.

My advice for budding artists/entrepreneurs is to trust yourself, be courageous, do the work, and have patience. Having an open mind and being ready to fail is probably something I should also mention. I feel like I fail all the time, and those have been the biggest lessons for me. But, above all else, embrace uncertainty.
- You live in one of our most favorite places in the world, British Columbia. How much do nature and your surroundings influence your style and work? How did you find and cultivate that connection between nature and your art?

I feel blessed to live here. My partner Dustin and I moved to BC from Calgary, Alberta about 5 years ago. And, I am so happy we did! We spend a lot of time outside. Yesterday morning we went paddle boarding and sat on the lake for an hour just brainstorming ideas for our company High Lotus. If I take a step back and look at what my life has become, it blows my mind.

By spending time outside, I can clear my mind and tune into my creative self. I believe that a higher power is in all things, and when I spend time outside, I feel so connected, peaceful, and in awe of life - the great mystery. Here we all are and I'm just happy to be here. This mindset is what fuels me to create. Life is like a dance, and I'm trying to tune into it, move with it and flow with it.
- What and/or who are some of your other influences when it comes to creating new designs?


I'm inspired by anything and everything. I would say music plays a huge role in my creative life. I often look to the past for creative inspiration, I like to dig around magazine archives online, I've been admiring John Alcorn and Kenojuak Ashevak lately. I also like to look at collections of ancient art and symbolism. The teachings of Ram Dass, Joseph Campbell, Terence McKenna, and Alan Watts, play a huge role in the messages I put out into the world. I just finished watching The Power of Myth documentary and it reignited my curiosity. Vintage psychedelic posters, tarot, my dreams, old movies. You name it, inspiration is all around. If you have no judgments, you can look around you and see the creative force within all things. It's all art. 
Stay tuned for more collaborations with Catie in the near future.
You can shop the Love Your Mother collection here.
Check out Catie's Instagram @sun_keep and her shop High Lotus Goods.
Photos 1, 5, and 6 by Nikki Roy (@nory.films)