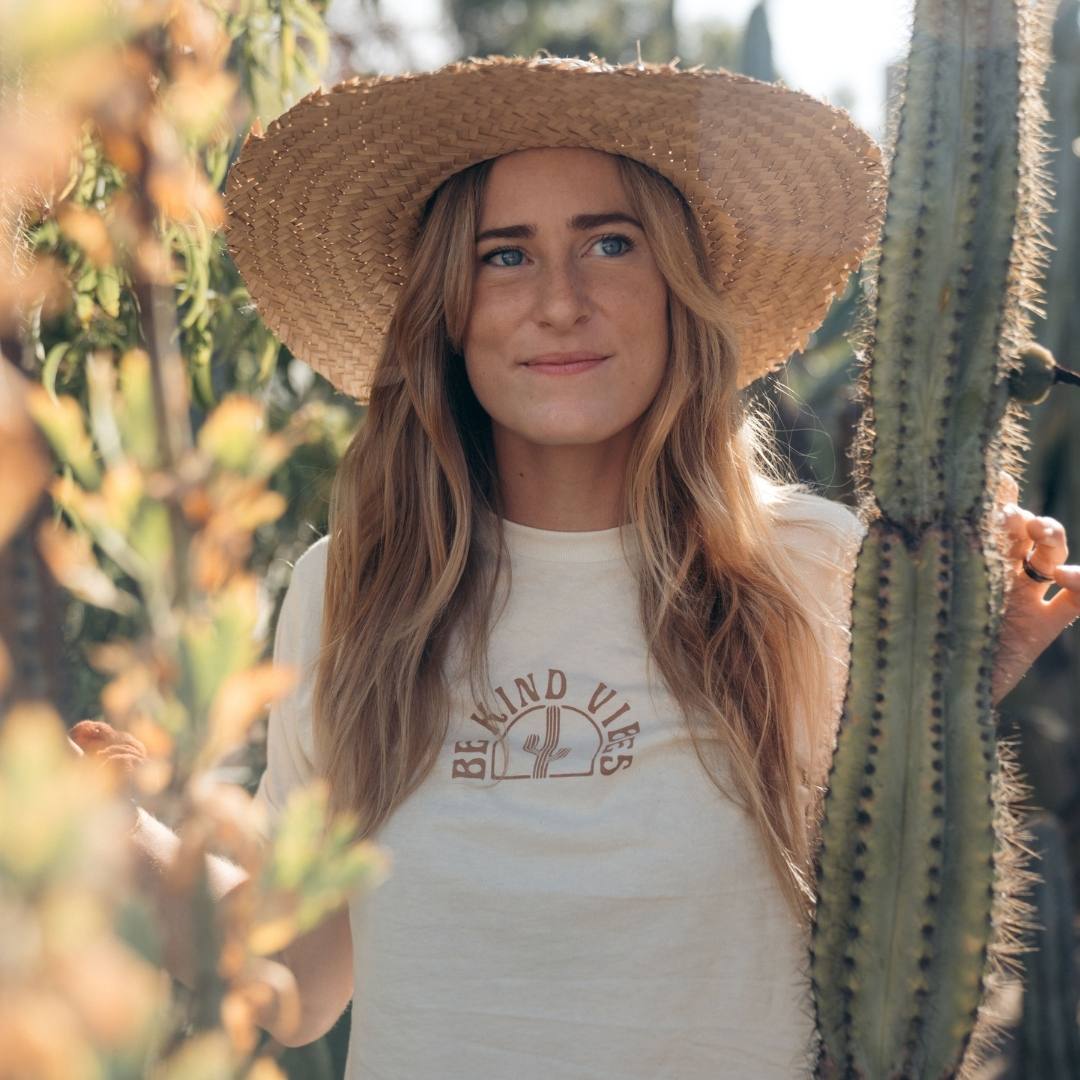 In Meet the Artist Vol. 2 we chatted with our good friend Sydney Perkins who created the design for our Desert Waves collection. We first met Syd at a local pop-up shop here in San Diego, CA and instantly fell in love with her dreamy and ocean inspired pieces. Syd is an amazing human and an extremely talented artist. Here's a bit of our conversation.
Can you tell us a little bit about your journey to art and graphic design? What drew you to this medium? How did you start down this path?
I've always had a love and appreciation for art and design--I grew up doodling on almost everything and art was always my favorite class in school, but I really didn't dive into it until recently. In 2018 left the States to travel and was on the road for about two years when the pandemic hit. I suddenly found myself back in my hometown with quite a bit of time on my hands and my mind still wandering on some faraway coast. Drawing is meditative for me and staying creative really helped me get through quarantine. Creating art allowed my mind to stay in the flow state I enjoyed so much while traveling. I started with sketching, which turned to ink on paper, which turned to painting, and eventually made its way into graphic illustration and design. I still enjoy working in all mediums, and although I do a lot of graphic art my favorite is probably ink and watercolor.
The Ocean seems to play a big role in your work. What lead you to the Sea? How do you translate your love for and connection to the ocean into your designs?
As I mentioned above I really only started diving into art when the pandemic hit. Right before the quarantine I had been traveling through some absolutely beautiful coastal countries and a lot of my art is influenced by those experiences. Drawing memories from the sea during a chilly Boston quarantine was pretty therapeutic--I couldn't physically be in the water so drawing it was as close as I could get.
I also think the year I spent in Australia (pre-pandemic) really grounded my love for the sea. It's where I learned to surf, and living there was definitely what led to me eventually moving out to California. Australia, (and California) are home to a lot of badass women on waves; all the strong feminine energy in the water had a massive influence on my art, and is something I'm continually humbled and inspired by. The female surfers I draw are a sort of celebration of all the women in the water out there shredding in such a historically male dominated sport.
You recently made the jump to the other coast and moved to NYC, congrats :) Can you tell us about the move? New inspiration? New scenery? Are you diving deeper into your work? 
I did! Such a crazy change of pace; from slow and steady Encinitas to the city that never sleeps. I actually moved out here to study graphic design! Up to this point in my journey I've been fully self taught, which is rewarding, but at the same time there's so much more I want to learn and dive deeper into. It felt serendipitous that the program I was interested in was located in New York--this city for me is such a mecca for creative expression and experimentation. There are endless art shows, galleries and museums of all kinds so it's been amazing to be around so much diverse inspiration. I've only been here a few short weeks but I'm already filled to the brim with ideas of new styles and mediums to work with!
What and/or who are some of your other inspirations when it comes to creating new designs?
Female empowerment has been a consistent narrative in my artistic journey and definitely shows up in a lot of my work. I love celebrating bodies through art; I went to a live drawing session, (where someone models in person for a class), around the beginning of my drawing career, and my art hasn't been the same since. Other than that it's a myriad of things--I love combining anonymous human figures with natural elements to kind of embody our connection to the natural world. Also, my favorite color palette has always been the desert (shout out to the desert waves tee!).
You can shop the Desert Waves collection here.
Definitely check out Syd's Instagram, website, and Etsy shop as well!
Photos: Laysea Hughes